2013
Honorary Coordinator , Pandit Vijay Kichlu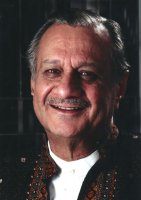 Pandit Vijay Kichlu, a Master of Arts from the University of Allahbad, has a unique combination of executive ability and artistry. As the mastermind and executive director of the revolutionary institution, Sangeet Research Academy, Pandit Vijay Kichlu is totally committed to Indian classical music, its propagation and preservation. Although he did not take music as a profession, Pandit Vijay Kichlu has been recognized as a leading vocalist of the Agra gharana, having been trained under the tutelage of the Dagar Brothers and later Ustad Latafat Hussain Khan. An erudite musician and a very fluent speaker, Pandit Vijay Kichlu holds fame in musicological circles all over the world. His lecture-demonstrations and compact workshops are pleasantly enlightening for the listener and participant. He has been granted Honorary Citizenship of the State of Maryland and the City of Baltimore in appreciation of his efforts in promoting Indian Classical music in the USA.
---
ARTISTES
Kaivalya Kumar Gurav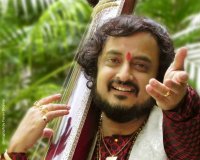 Pandit Kaivalya Kumar is a leading young exponent of the Kirana Gharana with a rich multigenerational lineage. He was trained by his father Pandit Sangmeshwar Gurav. His Grandfather Ganpatrao Gurav, studied under 2 legends: Pandit Bhaskarbua Bhakle and Ustad Abdul Karim Khan. Due to this ancestry, Kaivalya Kumar is a treasure house of unusual compositions (Bandish). Endowed with a mellifluous, fluid and high pitched tenor voice, he has achieved much recognition- "Surmani", " Pt. Jasraj Gaurav Puraskar" and "Sarva Shreshta Kalakar" to name a few. Kaivalya Kumar's rendition of ragas is marked by natural phirat, fast tans, infallible rhythm, imaginative content and a superb aesthetic approach.
He has performed extensively at several prestigious music festivals in India and has several albums to his credit.
---
Kalyanjit Das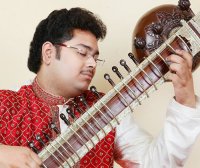 Kalyanjit Das, born in 1992, is a young and budding talent in the genre of Hindustani Classical music, and belongs to a highly acclaimed family of musicians in Kolkata. Pursuing B. Tech in Electrical Engineering, he started his musical career as a sitarist at the age of three under the guidance of his father Pt. Kushal Das, one of the finest Sitar maestros of India. Kalyanjit's great-grandfather Late Pt.Bimal Ch.Das was a known 'Esraj' player and his grandfather Pt. Sailen Das is a disciple of Pt. Ravi Shankar. Also, Kalyanjit's maternal grandfather, Late Pt. Jugal Sarkar, was one of the senior students of Late Ustad Keramatullah Khan. In addition to continuing his training in Sitar under Pt. Sanjoy Banerjee, an eminent sitarist, Kalyanjit takes vocal training from his mother Smt. Sujata Das and Ustad Rashid Khan, and educates himself about the different Talas, Layas & their variations from Sri Biplab Bhattacharya, Pt. Subhankar Banerjee, & the famous Tabla Wizard Pt. Shankar Ghosh. He has performed solo and duet (with his father) Sitar recitals in different places in India as well as in Europe. Kalyanjit is a proud recipient of the "Jnana Pravaha Scholarship".
---
Kushal Das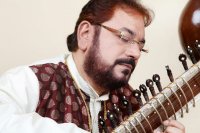 Kushal Das, a north Indian solo sitarist was born to a highly enriched musical family of Kolkata. His grandfather Late Bimal Das was a renowned Esraj player while his father Shri Sailen Das and Uncle Sri Santanu Das are sitarists of immense repute.
Kushal, at a tender age of seven, started his training in advanced sitar techniques and the art of music making under the guidance of Prof. Sanjoy Bandopadhyay, a renowned sitar maestro and academician. He has also had the privilege of having learnt from great musicians like, Pt. Manas Chakraborty, Pt. Ramkrishna Basu and Late Pt. Ajoy Sinha Roy.
With a profound understanding of music and raga improvisation, Kushal is now considered as one of the torchbearers of the traditional Indian classical instrumental music. The critics and connoisseurs have acknowledged him as a worthy successor of his idol, the legendary maestro Late Pandit Nikhil Banerjee.
Kushal's concerts are distinctly known for their aesthetic appeal and insight with a fine command over technical expertise. He has contributed in all the major music festivals in India and has performed extensively in the country and outside. An "A" grade musician of All India Radio and Television, he is a recipient of Sangeet Visharad from Pracheen Kala Kendra, Chandigarh and Sur Mani from Sur Singar Samsad, Mumbai.
---
Rakesh Chaurasia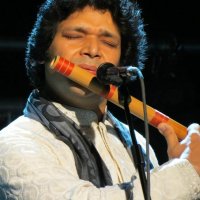 Rakesh Chaurasia, the nephew, child prodigy and the most accomplished disciples of flute maestro Pandit Hariprasad Chaurasia, shows all the promise to carry the Chaurasia legacy to new heights. Just like his legendary uncle, Rakesh possesses the right balance of strength and serenity, very critical factors for an exceptional flautist. His dextrous blowing technique coupled with his training of 'swar' and 'tala' allow him to demonstrate complex musicianship through a relatively simple vessel.
Despite his experimental work, Rakesh has never deviated from his main goal of becoming a full-fledged classical musician. He has regularly appeared in prominent festivals such as the WOMAD festival in Athens and the 'Festivals of India' in Russia, Japan , USA , and Europe. His growing maturity and status has brought him invitations to perform solo at major events within India and abroad, including the Festival of Saint-Denis in Paris and the Leicester International Music Festival in England. Most notably, Rakesh was invited to conclude the twenty-four hour live BBC Radio broadcast celebrating Her Majesty Queen Elizabeth's Silver Jubilee, reaching audiences worldwide. Recently Rakesh toured with the legendary tabla virtuoso Zakir Hussain for the Masters of Percussion concerts at some prestigious venues globally. Rakesh has also had the priviledge of performing with some international names such as Bela Fleck, Edgar Meyer, Joshua Redman.
Rakesh has been the recipient of numerous awards and accolades. He received the Indian Music Academy Award, presented by the Honourable President Of India, Dr..A.P.J Abdul Kalam in 2007, the Aditya Birla Kalakiran Puraskar in 2008, and the Guru Shishya Award in 2011. Rakesh is also an accomplished studio musician having recorded with most of the leading stalwarts of the Indian film industry.
---
Sandeep Narayan
Sandeep Narayan is the most sought after young stars of Carnatic (South Indian) music today. Sandeep is a disciple of the well acclaimed musician, Sri Sanjay Subrahmanyan. He started his initial training in vocal music at the age of four, under the guidance of his mother, Smt. Shubha Narayan. Though he was born and raised in America, his passion and interest in music inspired him to leave school at the age of 11 to come to India and begin advanced training under the revered musician and musicologist, the late Calcutta Sri K.S. Krishnamurthy in 1996. He has continued to sharpen his skills under Sanjay Subrahmanyan since 1999, and moved to Chennai in 2006 to pursue his musical interest fulltime.
After giving his debut performance of a full concert at the age of 11 in 1996, Sandeep has performed regularly in India, and has gone on concert tours in the United Kingdom, Sri Lanka, Singapore, and all over the United States as well. Sandeep performs regularly during the December music season in all major sabhas including The Music Academy, Sri Krishna Gana Sabha, and Narada Gana Sabha, just to name a few. Sandeep is an 'A' grade artist of All India Radio, Chennai, and was the recipient of The Madras Music Academy's award for 'Best Concert' in his time slot for the 2010 music festival, Sri Krishna Gana Sabha's Sri Yegnaraman Endowment prize for Gokulashtami 2010, and The Indian Fine Arts Society's 'Best Sub-Senior Vocalist Award,' among others. In addition to these accolades, Sandeep's debut album titled 'Paramashiva' has been nominated for a 2011 Global Indian Music Academy (GIMA) award, the premiere institution recognizing artists across all Indian genres, classical and non-classical. In addition to live theatre, Sandeep has sung for documentaries and feature films, and continues to connect Indian culture to audiences in the West through workshops, lec-dems, classes, and of course live performances.
---
Delhi P Sunder Rajan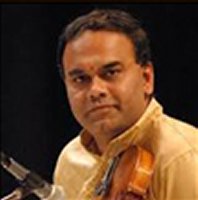 Delhi P. Sunder Rajan hails from a family of musicians belonging to the Temple town of Kumbakonam in Thanjavur District. He comes in the lineage of Flute maestro Brahma Sri Saraba Sastrigal. He is a disciple of Sangeetha Bhushanam Sri V. Janakiraman. Sunder Rajan started learning the Violin at the age of six and gave his maiden performance at the age of eight. He was recognised as a child prodigy and has established himself as an artiste of great talent, dedication and creativity. He has performed solo concerts all over the country and abroad. As an accompanying artiste he plays for all the distinguished musicians. He is now one of the most sought after violinists in the field of Carnatic Music. Sunder Rajan has the rare distinction of winning the Madras Music Academy's prestigious award as the best accompanying violinist for three years in succession.
Sunder Rajan has many awards and titles to his credit including the Nadha Brahma Kala Ratnam conferred by the Nadha Brahma Vidyalayam of Delhi. He has been awarded the Maharajapuram Viswanatha Iyer Trust award for excellence in the field of Violin. He has been appointed the Asthana Vidwan of the Hindu Temple – Dayton – USA. The Department of Culture, Government of India, has awarded him scholarship for learning violin. All India Radio gave his age exemption and made him a graded artiste of All India Radio, at the age of thirteen. He is now an 'A' Grade Artiste of All India Radio – Doordharshan.
Sunder Rajan is well recognised in the International Music circuit having performed in – USA, Canada, Australia, UK, U.A.E., Czech Republic Solvakia, Poland, Zagreb, Singapore, Hong Kong, Germany, France, Switzerland and Belgium and Holland. Many music critics in the country have acclaimed sunder Rajan's skill on the Violin. He has established the 'Venkata Academy of Music and Arts' – as institution for imparting training in the field of Carnatic Music.
---
ACCOMPANYING ARTISTS
Abhijeet Banerjee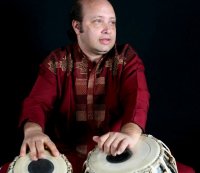 Considered among the top class of tabla players from India, Abhijit Banerjee is one of the most sought after creative artists in the realm of Indian classical music. With nearly 20 years of professional experience, Abhijit has crafted a unique style and creative approach which has brought him accolades and awards throughout the world for his sensitivity, skill and deep sense of musicality. Apart from his contributions to Indian music he has delved into a diverse variety of world music crossover as both a performer and composer.
Abhijit started learning Tabla at a very tender age, and won prizes at National level. He is an "A" grade artiste of All India Radio for over eight years. Abhijit has toured extensively all over the globe accompanying stalwart artistes, such as Pandit Ravi Shankar, Late Pandit Nikhil Banerjee, Pandit Jasraj, to name a few as well as performed solo. Abhijit has collaborated with acclaimed world musicians such as Ry Cooder, Larry Coryell, Badal Roy, Trilok Gurtu. Abhijit has scored music for Documentary and telefilms. Abhijit's own performing group, TARANG, a talented ensemble has enjoyed roaring success. He has formed Dhwani Academy, a school that specializes in Indian percussion, which has branches in India, Los Angeles, New York and London (UK). Dhwani Academy is involved in a lot of community work and attracts students from all over the world.
---
Arun & Shiva Ramamurthi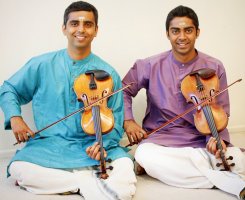 Arun & Shiva Ramamurthi are Carnatic musicians, and have been disciples of their current guru, Violin Maestro Delhi P. Sunder Rajan, since 2000. They have performed carnatic violin as soloists, as a duo, and as accompanists at numerous prestigious venues throughout the U.S. and India. They are regular performers at the December Music Festival in Chennai. Arun and Shiva are also trained Carnatic vocalists.

Shiva is currently a senior at UCLA studying cognitive science and economics. Arun graduated from UC Berkeley with degrees in Music and Economics and currently works in Newport Beach, California.


---
Kedar Naphade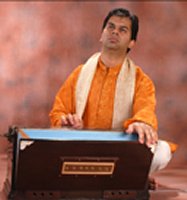 Kedar Naphade, a Hindustani Classical Instrumentalist, is one of today's leading exponents of the art of Harmonium Solo and Accompaniment. He is also the Founder and Principal of Pt. Tulsidas Borkar School of Harmonium at ACE Open Online University - a first-of-its-kind virtual music school that brings the highest caliber of music education into the living rooms of deserving students all over the world.
Kedar received preliminary training in Hindustani Classical Music from his grandfather, Shri Dadasaheb Naphade and from Shri Arvind Gajendragadkar. For over 15 years, he has been a leading disciple of Pt. Tulsidas Borkar, arguably the most acclaimed harmonium player in India today. Kedar has also had the privilege of training from Smt. Padmavati Shaligram-Gokhale, a veteran singer of the Atrauli-Jaipur gharana. In addition to classical music, Kedar also plays the semi-classical forms of Marathi Natyasangeet (Stage Music), Bhajans, Thumri, Dhun to name a few. Kedar has performed harmonium solo and has accompanied vocalists at numerous concerts in India, Europe and in the U.S.
---
Nirmal Narayan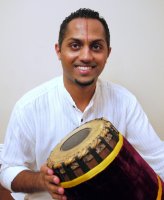 Nirmal Narayan is a disciple of the legendary mridangam maestro Padma Vibhushan Dr. Umayalpuram K. Sivaraman.

A regular performer during the Chennai Music Festival for several years, he has accompanied such stalwarts such as Prof. T.N. Krishnan, Dr. N. Ramani, Sri T.V. Sankaranarayanan, Chitraveena Sri N. Ravikiran, Malladi Brothers, Smt. Ranjani and Smt. Gayathri among others. He has performed in many prestigious venues such as Shanmughananda Hall, Mumbai and The Music Academy, Chennai, where he was awarded the "Best Concert" prize during the December 2010 music festival.

Nirmal has received numerous awards and titles, namely "Yuva Kala Bharati" from Bharat Kalachar, "Azhiyoor Natesa Iyer Endowment Prize" from Sri Krishna Gana Sabha, and "Best Performer for Mridangam" by Sri Parthasarathy Swami Sabha.

Since his notable performances early in his career, he has performed extensively in North America in major music festivals, including the Cleveland Tyagaraja Aradhana, the World Music Festival in Chicago, and the National Folk Music Festival in Montana. Active in the community he participated in fundraiser events for the 2004 Asian Tsunami, the Ekal Vidyalaya Foundation for building schools, and the Sankara Nethralaya institute for ophthalmic care. His passion for music extended to creative collaborations with Hindustani vocalists, tabla artists, western drummers and DJs on unique fusion projects. Nirmal is also the recipient of the 'Master Apprenticeship Grant' as a Master – Teacher from the Alliance for California Traditional Arts.

After earning his Bachelor's degree in Economics from the University of California, Berkeley, he is currently pursuing his MBA from the USC Marshall School of Business. Nirmal resides in Southern California, where he continues to teach mridangam, as well as perform in concerts both locally and internationally.

---
Swapan Chaudhari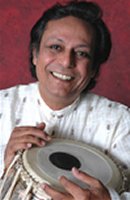 Esteemed the world over for his purity of sound, depth of knowledge, rhythmic creativity, and dedication to teaching, Maestro Swapan Chaudhuri is considered one of the greatest living musicians and tabla virtuosos of our time. He continues to accompany all the eminent classical instrumental and vocal musicians of India in addition to collaborating with artists of every world music tradition and genre. His dedication to teaching tabla worldwide has brought him global recognition and defined him as a true master. He has made tabla more accessible, enabling this North Indian classical drum to take its rightful place as one of the most versatile and sought after instruments on the planet.
Swapan Chaudhuri's parents, through their own passion for music, initiated his formal musical training. Swapan Chaudhuri started tabla learning at the age of five. He bases his style on the intensive training he received from his Guru, Pandit Santosh Krishna Biswas of Calcutta, an eminent exponent of the Lucknow Gharana. As a soloist and accompanist Swapan he has accompanied maestros such as Pandit Ravi Shankar, Ustad Ali Akbar Khan, the late Nikhil Banerjee, to recording with world musicians such as L. Shankar, John Handy, and the African drum master Malenga. He has participated in many international music festivals and has composed for several percussion ensembles, which have received much appreciation from both western and Indian audiences. He is currently the director of percussion at the Ali Akbar College of Music in San Rafael, California and in Basle, Switzerland. He is also a member of the teaching staff at the California Institute of the Arts, Valencia, California.