9.30am - 12noon - Symposium - lecture/demonstration - "Thumri ki Kahani"
A historical and philosophical journey of the evolution of the light classical vocal genre of "Thumri".
Presented by Pt. Vijay Kichlu through lecture and old recordings of great masters of the past and their contributions to Thumri singing. Interspersed were live recitals of existing Purab ang and Punjab ang of Thumris by accomplished vocalists Sanjukta Biswas and Shantanu Bhattacharyya. Accompanied by Durba Bhattacharyya on harmonium.

Thumri Ki Kahani is the story of the romantic evolution of Thumri, comparatively a recent style of singing which took the world of music by storm about 175 years ago. The Lecture-demonstration went through the journey Thumri has undertaken and also about it's philosophy and what Thumri is all about. Valuable recorded music was played giving the precious compositions of some of the greatest earliest composers of Thumri like Lalanpiya, Sanadpiya, Bindadin Maharaj, and Kunwar Shyam and some of the unforgettable and rare recordings of stalwarts like Maijuddin Khan, Fiyaz Khan, Abdul Karim Khan, Begum Akhtar, Siddheshwari Devi, Bade Ghulam Ali Khan, and Barkat Ali Khan. There was also live demonstration of Pural and Punjab ang of Thumries from two of the finest young exponents of Thumri
- the first complete work on Thumri and undoubtedly a rare and unforgettable experience for all music lovers.

1.45pm - Opening Remarks and Lamp Lighting

2pm - 3.45pm - Debashish Bhattacharya (Dev Veena or glide guitar) accompanied by Arup Chatterjee (Tabla)

4pm - 5.15pm - Sanjukta Biswas (Hindustani Vocal) accompanied by Samar Saha (Tabla), Durba Bhattacharyya [Harmonium]

6pm - 8pm - Tejendra Majumdar (Sarod) and Kushal Das (Sitar) - Juglabandi (duet) accompanied by Subhankar Banerjee (Tabla)

8.15pm - 10.15pm - Aruna Sairam - (Caranatic Vocal) accompanied by H.N. Bhaskar (Violin) and Patri Satish Kumar (Mridangam)

10.30pm - 12.30am - Rajan and Sajan Mishra (Hindustani Vocal) accompanied by Samar Saha (Tabla), Durba Bhattacharyya [Harmonium])


Bios
Honorary Coordinator , Pandit Vijay Kichlu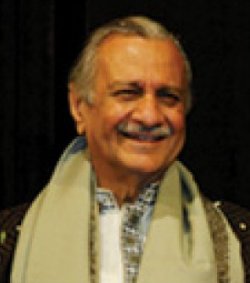 Pandit Vijay Kichlu, a Master of Arts from the University of Allahbad, has a unique combination of executive ability and artistry. As the mastermind and executive director of the revolutionary institution, Sangeet Research Academy, Pandit Vijay Kichlu is totally committed to Indian classical music, its propagation and preservation. Although he did not take music as a profession, Pandit Vijay Kichlu has been recognized as a leading vocalist of the Agra gharana, having been trained under the tutelage of the Dagar Brothers and later Ustad Latafat Hussain Khan. An erudite musician and a very fluent speaker, Pandit Vijay Kichlu holds fame in musicological circles all over the world. His lecture-demonstrations and compact workshops are pleasantly enlightening for the listener and participant. He has been granted Honorary Citizenship of the State of Maryland and the City of Baltimore in appreciation of his efforts in promoting Indian Classical music in the USA.


ARTISTES

Subhankar Banerjee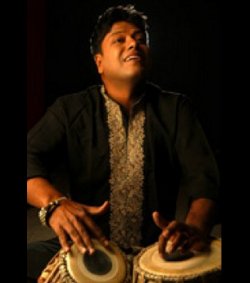 Subhankar Banerjee is one of the leading soloist as wells as an accompanist tabla player of India.

At the age of five, the musical wonder kid was placed under the tutelage of Shri Swapan Shiva, a celebrated artiste and teacher of Farukhabad Tabla Gharana. Over the years, he has dedicated himself to grooming his versatility by learning styles specific to diverse gharanas from different maestros. Training in vocal music from his childhood has made him a competent vocalist as well.

In addition to being a reputed soloist, Subhankar is an accompanist of choice for most prominent celebrities of our country such as Pandit Ravi Shankar, Ustad Amjad Ali Khan, Pandit Hariprasad Chaurasia Pandit Shiv Kumar Sharma, Pandit L. Subramanium, Dr.M.Balamuralikrishnan, Pandit Jasraj, Pandit M.S.Gopalkrishnan, Pandit Ajoy Chakraborty, Pandit V.G.Jog, Ustad Imrat Hussian Khan, and many others. He has been a proud recipient of several awards from dignitaries like Satyajit Ray, Pandit Ravi Shankar, and the President of India in 1987.


Debashish Bhattacharya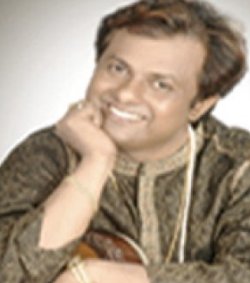 Debashish Bhattacharya, the revolutionary musician, composer, innovator, guru, is a musical genius whose dynamism in artistry and creativity has attracted devotees of music from across the globe. As a powerful slide guitarist, he has set a new trend among fellow musicians of "Universal Human Music" which transcends the confines of origin or genre. His ingenious finger style technique as well as his unique playing style combining thumb and index finger produces the finest "bole" variety, fastest "Taanas", and strongest "Jhala", which were technically impossible on a slide guitar earlier. A dedicated Guru and pathfinder, Debashish has written a syllabus on Indian Classical Guitar, the first of its kind, which includes technical terminologies and abbreviations.

Blessed by the genes of a family who had produced generations of musicians, Debashish carries music in his veins. His debut at the age of four was broadcast by All India Radio, Kolkata, and was blessed by the late Ustad Karamatullah Khan of Farukhabad gharana who accompanied him on the Tabla.

He is perhaps the only phenomenon in the history of the world music and Indian classical music who has created a Trinity of Slide Guitars. Christened as CHATURANGUI, GANDHARVI, and ANANDI, these, according to Bob Brozman are "the new arms and ammunitions to fight against ignorance". Debashish has won several competitions and been the recipient of numerous prestigious awards for his innovation and excellence in music.
debashishbhattacharya.com


Durba Bhattacharyya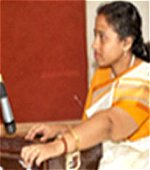 Durba Bhattacharya possesses an unmatched talent of singing soulfully and tunefully with an impeccable sense of rhythm invoking the Divine presence. She is also a Harmonium artist of extraordinary merit and has accompanied great vocalists in major concerts across the world.

Durba started her training from an early age in the basics of Hindustani vocal music under the guidance of her mother Tapati Banerjee. After learning from Mazhar Ali Khan (grandson of Ustad Bade Ghulam Ali Khan) for a brief period, she furthered her education under the tutelage of Pandit Ajoy Chakrabarty and later from Vidushi Meera Banerjee, while she was a scholar at the ITC Sangeet Research Academy, Kolkata. She continues to train in the subtlest nuances of Raga music under Pandit Shantanu Bhttacharyya.

Durba Bhattacharyya has performed extensively in India and abroad and has released several CD's to her credit.


Shantanu Bhattacharyya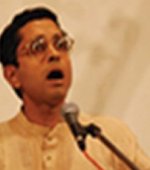 Shantanu Bhattacharyya, the Indian Classical vocalist, believes that the genre expressed in its truest form, has the power in it to elevate the listeners to the highest spiritual level. Shantanu focuses greatly on this aspect in all his performances in an effort to uplift the listeners in their awareness and appreciation.

Gifted with a voice that possesses all the attributes - exactness of "sur", flexibility, range and tonal modulations of the highest level - his singing is also characterized by delicate imagination, exquisite creativity and the finest training. Groomed in music from childhood by his mother, Shantanu continued to learn copiously under the guidance of leading musicians Pandit Prasun Banerjee, Shrimati Meera Banerjee and Pandit Ajoy Chakrabarty. With valuable advice from and through association with great maestros while at the Sangeet Research Academy, Kolkata, he perfected himself into a musician aiming to combine the best of all the styles, focusing centrally on the gayaki of Ustaad Bade Ghulam Ali Khan.

His performances have taken him all round the country and abroad for concerts, recordings and lecture-demonstrations. He also has several albums on khayal, thumri and bhajans, and has composed music for numerous meditation and yoga courses, available on CDs and audio cassettes. He has won gold medals in several prestigious competitions for his expertise in khayal and thumri. He is an A-grade artiste of All India Radio and Doordarshan.


Sanjukta Biswas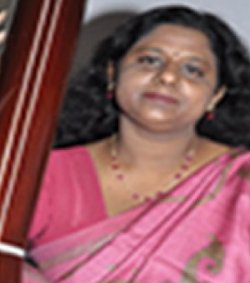 Sanjukta Biswas was born into a music loving family in Nadia District, West Bengal. Sensing a rare talent in his daughter, her father Shri Bharat Chandra Biswas helped and encouraged her to nurture her natural gift from an early age. Sanjukta's "gaikee" (rendering) is an impeccable blend of vidya(knowledge) with perfect "raagdari" on the one hand and a keen sense of aesthetics compounded by an alluringly tuneful voice and a full-throated "aakar" on the other. Sanjukta also excels as a thumri, dadra and kajri singer in the perfect "Poorab Ang" of Banaras.

Her earliest lessons in music were from Shri Amalendu Pal and Shri Kalyan Guha Thakurta. After graduation, her exceptional talent facilitated her entry into the revolutionary ITC Sangeet Research Academy as a first class student, and later landed her a scholarship while learning from her Guruma, Vidushi Subhra Guha, of the Agra Gharana with whom she continues to learn as a resident student.

Sanjukta has blossomed into a mature performing artist and is being invited not only by major platforms in West Bengal but all over India and abroad. Sanjukta is an approved artist and regularly broadcasts from All India Radio, Kolkata and other television channels. She has won numerous awards and acclaims for her consummate talent.


Arup Chatterjee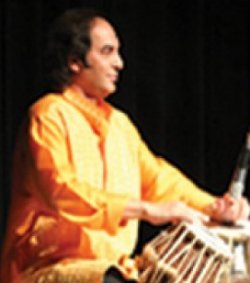 Arup Chatterjee (Chattopadhyay) is recognized as one of the most outstanding and sought after Tabla artists of this generation. As a premier disciple of world-renowned maestro Pandit Shankar Ghosh, Arup has established himself as a top-notch accompanist as well as a formidable soloist. Arup's performance is admired for its overall clarity, tonal quality, crystal clear "bols", and spontaneous sense of rhythm and melody. Arup began studying Tabla at age six with his father, the eminent Tabla player, Shri Pankaj Chattopadhyay, and later came under the tutelage of Pt. Shankar Ghosh, with whom he continues to train. Having achieved Grade A status as an artist, Arup's performances are broadcasted on radio and TV throughout India.

He has accompanied many of the leading musicians of India such as Pt. Ravi Shankar, Pt. Rajan and Sajan Mishra, Tejendra Narayan Majumdar, Kushal Das, Debashish Bhattacharya, among a host of others. He has performed at concerts and festivals in India as well as all over the world.

Arup is also a highly sought after teacher of Tabla. He was previously a professor of Tabla at Baratiya Vidya Bhavan in London (Institute of Indian Culture) and has been a member of the faculty at UC San Diego since 1999.


Kushal Das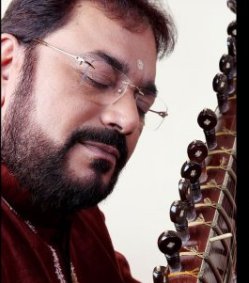 Kushal Das, a north Indian solo sitarist was born to a highly enriched musical family of Kolkata. His grandfather Late Bimal Das was a renowned Esraj player while his father Shri Sailen Das and Uncle Sri Santanu Das are sitarists of immense repute.

Kushal, at a tender age of seven, started his training in advanced sitar techniques and the art of music making under the guidance of Prof. Sanjoy Bandopadhyay, a renowned sitar maestro and academician. He has also had the privilege of having learnt from great musicians like, Pt. Manas Chakraborty, Pt. Ramkrishna Basu and Late Pt. Ajoy Sinha Roy.

With a profound understanding of music and raga improvisation, Kushal is now considered as one of the torchbearers of the traditional Indian classical instrumental music. The critics and connoisseurs have acknowledged him as a worthy successor of his idol, the legendary maestro Late Pandit Nikhil Banerjee.

Kushal's concerts are distinctly known for their aesthetic appeal and insight with a fine command over technical expertise. He has contributed in all the major music festivals in India and has performed extensively in the country and outside. An "A" grade musician of All India Radio and Television, he is a recipient of Sangeet Visharad from Pracheen Kala Kendra, Chandigarh and Sur Mani from Sur Singar Samsad, Mumbai.


H.N. Bhaskar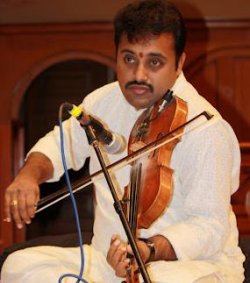 H N Bhaskar, widely acclaimed for his emotive and soulful playing, is one of the most sought after violinists in the world of Carnatic music. Bhaskar has a keen ear for western music and has an uncanny talent to mix his Carnatic classical style with western genres.

HN Bhaskar began his training under the guidance of his parents, Sri H K Narasimha Murthy and Smt H N Rajalakshmi. He is one of the senior most disciples of the violin maestro Padmashri Sangeetha Kalanidhi and M S Gopalakrishnan. His first public performance was at the age of eight and since then there has been no looking back. His melodious style of playing has made him a popular accompanist for many musical stalwarts like Pandit Ravishankar, Anoushka Shankar, John McLaughlin, Vikku Vinayakaram, T V Gopalakrishnan, T N Sheshagopalan, Dr N Ramani, Mandolin Srinivas, Aruna Sairam, Bombay Jayashree among others.

HN Bhaskar has performed at numerous locations in India as well as abroad. He has composed music for many fusion albums and has rendered music for films too. He has also founded a fusion band called "Antaragni" with Raghu Dixit.


Tejendra Mazumdar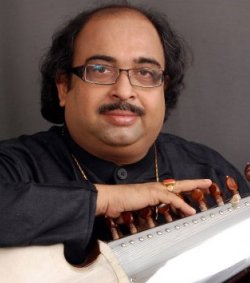 Tejendra Narayan Majumdar, an illustrious sarod player, is one of the most acclaimed classical musicians in India. His music emanates a very rare combination of virtuosity, classical purity and a deep sense of aesthetics. Tejendra is an able representative of the legendary Senia Maihar School of music, the most notable exponents of that style being Ustad Ali Akbar Khan and Pandit Ravi Shankar.

Like most other dedicated classical musicians, Tejendra started learning music at a very early age under the guidance of his grandfather Bibhuti Ranjan Majumdar and later with his father, Ranjan Majumdar. Tejendra has also received vocal training from Amaresh Chowdhury and rhythm training from Anil Palit. After showing considerable talent in his early teens, Tejendra was taken as a disciple by Ustad Bahadur Khan, with whom he studied for 18 years. After the untimely demise of the Ustad, Tejendra studied under the guidance of Ajay Sinha Roy. He was later accepted as a disciple by the greatest Indian instrumentalist, Ustad Ali Akbar Khan. Tejendra's repertoire combines elements from the Dhrupad, Tantrakari and Gayaki styles of music.

Tejendra has performed extensively in India and overseas where he has been accompanied by all the prominent tabla players of India, including Pandit Kishan Maharaj, Sankar Ghosh, Pandit Swapan Chaudhury, Anindo Chatterjee, Kumar Bose, Sabir Khan and Ustad Zakir Hussain. He has won numerous awards and felicitations including the President's gold medal and Pandit Paluskar award.


Pandit Rajan and Pandit Sajan Mishra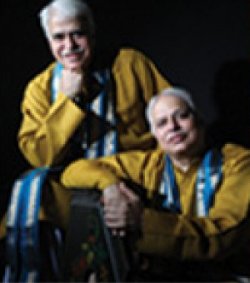 Pandit Rajan Mishra and Pandit Sajan Mishra are acclaimed as two of the best vocalists in the North Indian (Hindustani) classical genre. The brothers are a part of the 300-year old lineage of khayal singing of the Banaras gharana. With their immense skill, imagination, energy and effortless elegance they have raised the status of this genre to new heights.

The brothers started their training under the guidance of their father, a well-known vocalist, Pandit Hanuman Prasad Mishra, and their uncle, Pandit Gopal Prasad Mishra, one of the most celebrated sarangi players of India. With their unique natural talent compounded by their melodious voices, they were able to assimilate the essence of the age-old Banaras gharana with consummate ease. Today they are considered the foremost exponents of the Banaras style of singing.

Since their first concert when they were in their teens, Rajan and Sajan have performed extensively in India and abroad. It is a measure of their popularity that Rajan-Sajan Mishra, as these brothers are popularly known, command huge audiences wherever they perform. In addition to Khayal, Mishra brothers also excel in rendering the light classical forms such as tappa, tarana, and bhajan. They have received numerous awards for their contribution to music including the Padma Bhushan in 2007, one of the highest honors given by the Government of India.


Patri Satish Kumar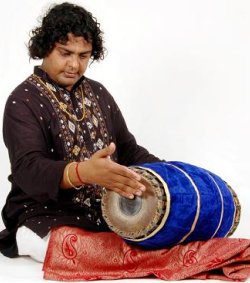 Satish Kumar, an accomplished mridangam player, is widely known for his unique style of playing which blends seamlessly with various instruments and voices alike. He has been a prominent part of many musical confluences of classical, fusion and jazz genres. Born into a family steeped in Carnatic music, Satish Kumar was initiated into learning mridangam at a young age by his mother Smt. Padmavathy, an accomplished violinist. He performed his first concert at the age of seven. Satish Kumar subsequently received training under the able guidance of Ramachandramurthy, V.A. Swami and V. Narasimham.
Satish Kumar has performed at prestigious venues such as Festival of France, Miami Beachfront Festival, Madrid Jazz Festival, India Gate Festival, and Harbourfront Festival during his many performing tours in India and abroad. His performances have been featured in many national and international broadcasts such as Radio France, Radio Germany, Radio South Africa, All India Radio and Ceylon Radio. Satish Kumar's name features in many CD/DVD recordings in India and abroad. He was one of co-artists in "Margazhi Raagam" - first ever Carnatic music concert movie. This apart he has released a CD titled "Dimensions" - A solo presentation and "Dancing Drums" - a percussion ensemble presentation.


Samar Saha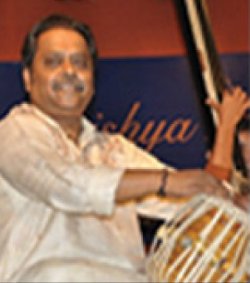 Samar Saha, representing the Banaras gharana, is one of the finest Tabla percussionists of India. Musical performances by renowned artists start throbbing with life with the magical touch of his fingers on the tabla.

Born and raised in Kolkata, Samar Saha showed great promise at a very young age. Samar's initial training started at a very tender age under the guidance of his father Sudhansu Bhusan Saha and brother Tarak Saha. He later pursued formal training under the tutelage of Satchidananda Goswami followed by Sri Krishna Kumar Ganguly (Natubabu) of the Banaras Gharana.

A highly sought after Tabla accompanist, Samar has had the privilege of accompanying almost all the top ranking artists of Hindustani vocal and instrumental music in India and abroad. Frequently featured on All India Radio (AIR) and Doordarshan, Samar has participated in all prestigious music conferences in India. According to Prakash Wadhera, a well-known music critic, "ITC is extremely fortunate in having the services of ace tabla player Samar Saha. Effortless and unobtrusive, Samar seems to have attained the very perfection in the art of rhythmic accompaniment".


Aruna Sairam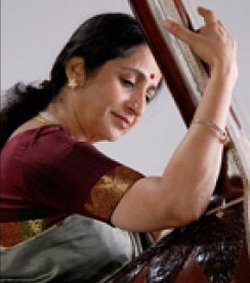 Aruna Sairam is one of the best voices to emerge from the South Indian (Carnatic) musical tradition. She was trained since childhood by her mother, Rajalakshmi and later from prominent vocalists, Madurai Somasundaram and T. Brinda. She also learnt the art of Pallavi singing from T. R. Subramaniam.

Steeped in her own musical tradition, Aruna brings richness to her collaborations with other artists. She has given several concerts and has recorded an album with the renowned medieval singer, Dominique Vellard. She has toured in Germany with Christian Bollmann and Michael Reimann, who fuse European overtone music and a range of international instruments with her vocal improvisations. Their CD - ARUNA, Thousand Names of the Divine Mother - was recorded in the crypt of a Benedictine monastery. They were subsequently joined by Rajika Puri, whose dancing added another facet to their concerts.
Aruna has performed all over India and abroad, including the Presidential Palace in New Delhi. Every year, as a custom, she gives several recitals during the celebrated Madras Music Festival which is typically held in December. She has presented the opening concert of the season at the Theatre de la Ville in Paris, performed live concerts for Radio France, at the Festival of World Sacred Music in Morocco, and at Carnegie Hall in New York. Aruna has received numerous titles and awards.